Who We Are and What We Do
Care To Help Foundation (CHF) endeavors to help improving the living standard of impoverished people throughout North America, Asia, Africa, Latin America and the Caribbean. Our goal is to help the people who are less fortunate by improving their social and economic conditions.
CHF distributes food, clothing, shoes, computers and other necessities to the people in many developing countries. CHF mainly collects donations in North America and redistributes these goods to the needy people around the world. CHF was founded in New Jersey as a not-for-profit organization and has forged a spirit of cooperation. In addition to directly collecting and distributing goods, CHF also collects funds from benefactors, purchases necessary goods cost-effectively in the U.S., and often distributes to the needy people through other not-for-profit organizations in those developing countries.
CHF believes that education and self-help is the key for recipients to strive to break the cycle of poverty. CHF not only directly provides financial resources for charitable housing project, but also establishes training programs to assist income generating in different areas, such as basic computer skill trainings and small business development trainings.
Our Mission:
Our mission is to enable individuals of every race and religion to express their compassion and care for their fellow human beings. By giving needy people aid, comfort, and hope, we share our unconditioned love and embrace all people regardless of race, status, and creed. By participating in donation programs or by giving directly, our supporters are able to provide the gift of love and hope to impoverished people all around the world. We share one common goal: to help from our heart and to create a better world.
Our Vision:
Our vision is to increase both the number of countries to be helped and the number of volunteers in the U.S. as well as in those countries we serve. CHF also focuses on increasing the number of student volunteers including high school and college students.
CHF will create fundraising campaigns to attract individuals through marketing efforts and direct mail campaigns, as well as a VIP Committee made up of business people who will volunteer their time.
Our Operation:
Distribution: CHF works directly with churches, schools, charity organizations and many developing countries, inquires the needs
of local people and subsequently provides the requested goods and services. This direct distribution method not only assures that only needed items are shipped, but also keeps operation cost at a minimum.
Housing: In many developing countries we serve, thousands of families lack adequate shelters. Families often live in dilapidated shacks made of scraps of wood, plastic, and cardboard. This type of shelter offers little or no protection from the increment weather, insects, and rodents. As a result, many diseases are rampant, especially amoung the children and the elderly. CHF works with other charities and help to provide these families with alternative housing. CHF also provide financial fund to build senior centers for the many abandoned elderly. These simple and modest homes provide safe shelters and new life to those who could not afford a home on their own.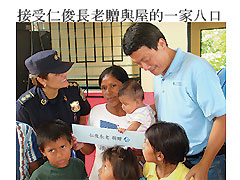 Education: Education is crucial in breaking the cycle of poverty, and provides long-term and sustainable solutions to poverty. CHF advocates various educational programs, providing school with basic supplies, desks, computers and other needed items through Latin America. CHF also supports programs that promote vocational education and training in various countries. Many of these training programs assist students to generate income and to encourage student's self-sustenance and self-determination.
Disaster Relieve: CHF offers international humanitarian assistance by providing emergency relief to nations stricken by natural disasters, such as hurricanes, earthquakes, mudslides, etc. When the need arises, CHF stands ready to deliver immediate assistance, including food, water, building supplies, and other emergency relief items. CHF provides victims with life's basic necessities and supplies them the resources to rebuild their lives.